Facility Information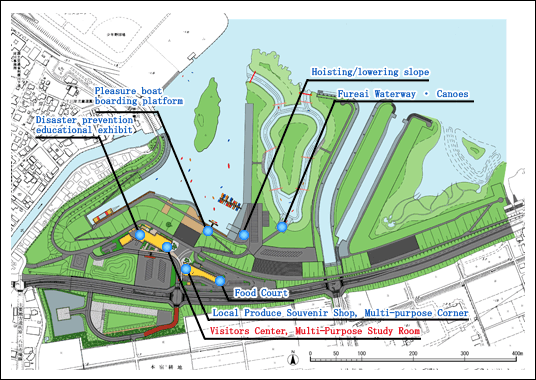 Total Facility Area
Approximately 16.0ha
Kawa-no-eki Mizu-no-sato Sawara
Address:
4051-3 Sawara-I, Katori City, Chiba Pref. 287-003
Tel/Fax
Tel: 0478-52-1138 / Fax: 0478-52-1122
Business Hours
Disaster Prevention Educational Exhibit
09:30 to 16:30
Closed: Monday (Tuesday when Monday is a national holiday,) New Year period, Facility maintenance days
Sawara Riverside Interaction Center
09:00 to 17:00
Closed: Monday (Tuesday when Monday is a national holiday,) New Year period, Facility maintenance days
Floor Area
Vehicle Warehouse
Approximately 360 square meters
Tone River Information Broadcasting Facility (disaster education bulletin board, etc.)
Approximately 1,490 square meters
River Transport Center
Approximately 830 square meters
Michi-no-eki Mizu-no-sato Sawara
Address:
3981-2 Sawara-i, Katori city, Chiba Pref. 287-003
Tel/Fax
Tel: L0478-50-1183 / Fax: 0478-50-1185
Business Hours
Local Specialties Stands
08:30 to 18:00
(Open year round except on facility maintenance days)
Food Court
08:30 to 18:00
(Open year round except on facility maintenance days)
Parking
146 for cars / 22 for buses / 4 for disabled vehicles / 21 for Large motorcycles
24 hours / Open year round
Toilets
Men 13, Women 12, Disabled 1
24hours / Open year round
Rest Area, Information Corner
24hours / Open year round
Floor Area
Approximately 1,110 square meters
Prohibited Actions (Please read thoroughly)
Note that the following actions are prohibited within the facilities, and these rules must be observed at all times.
All types of Fishing (rods and nets), fireworks, bonfires, barbecues, camping and other similar or dangerous activities are prohibited.
Baseball, golf, skateboarding, roller skating, kiting and other similar activities are prohibited.
Radio controlled aircraft and other similar items are prohibited.
Parking or leaving cars, motorbikes and bicycles anywhere other than the designated parking areas are prohibited.
Bringing items into the facilities that may annoy other users, dogs, cats, birds and other animals, ignitable or inflammable items, dangerous items, items that emit foul odors, and other items that are forbidden by law are prohibited.
Leaving or dumping litter and other garbage is prohibited.
No trespassing in entry-restricted areas or entry-prohibited areas.
Cutting down bamboo, trees or other plants is prohibited.
Piling up earth, rocks, bamboo or other wood is prohibited.
Collecting rocks or otherwise modifying the layout of the land is prohibited.
Hunting or killing wildlife is prohibited.
All other actions that may annoy other users or that are forbidden by law are prohibited.
Introduction of Facilities
Objectives of the Facility
This facility is a project being carried out by the Ministry of Land, Infrastructure and Transport with Katori City's full cooperation as a Sawara wide-area interaction PFI project. An investigation committee and committees of employed people, etc., were established in order to proceed with the PFI project in 2006, and PFI Sawara River Co., Ltd. was elected as the special purpose company (SPC) on July 07, 2008.
The project is the nation's first attempt to administer rivers directly with the use of the PFI procedures, and it involves the Ministry of Land, Infrastructure and Transport installing high-standard flood barriers (super barriers,) utilizing disaster prevention training, etc., to distribute information to the area's interchange facilities (Michi-no-eki) and river users at all times, and incorporating a facility (Kawa-no-eki) as a flood-prevention base in the event of disasters. In addition to using the disaster-prevention base in the downriver area of the Tone River, it will also be used as a transport interaction point in which the natural environment of the Tone River will be used for canoes, etc., and the convenient accessibility of the location will be used to establish cargo distribution by boat and road.
Katori City has prospered as a distribution center along the Tone River since the Edo period, and its streets of ancient buildings has led to it being designated as a sanctuary for important traditional structures. Making the best possible use of this cultural heritage, we are promoting a style of town planning than blends in with the river, and establishing various facilities that aim at urban redevelopment.
Introduction of PFI Projects
PFI stands for Private Finance Initiative, and it uses funds, administrative abilities and technological skills from the private sector to construct and maintain public facilities that are operated independently by the government or regional authorities. It is based on the PFI Act, and it offers a new method of providing efficient and effective public services that are available directly from the government and regional authorities.
The Act on Promotion of Private Finance Initiative (commonly known as the PFI Act) was enacted in July 2997 as the PFI policies for Japan.
The companies involved in PFI projects are established as special purpose companies (SCP) for the purpose of proceeding with the project.
Introduction of the Disaster-Prevention Facility (Main Offices)
The facility is in charge of all disaster-prevention facilities in the event of disasters occurring, and it is used for disaster-prevention training and as a facility for using the riverside amenities during normal times.
Disaster-Prevention Support Office
(Normal Times) Facility Administration Office, Multi-Purpose Study Room
Waiting Room, River Information Room
(Normal Times) Disaster-Prevention Training and Exhibit Room
Disaster-Prevention Storeroom
Privately-owned Electrical Power Facility Room
(Normal Times) Disaster-Prevention Training and Exhibit Room
Flood-Barrier Worker Briefing Room
(Normal Times) Visitors Center
Information Collection Room
(Normal Times) Multi-Purpose Study Room
Outdoor Toilets for Flood Barrier Workers
(Normal Times) Toilets for facility workers
Flood Barrier Worker Changing Room
(Normal Times) Food and Beverage Room